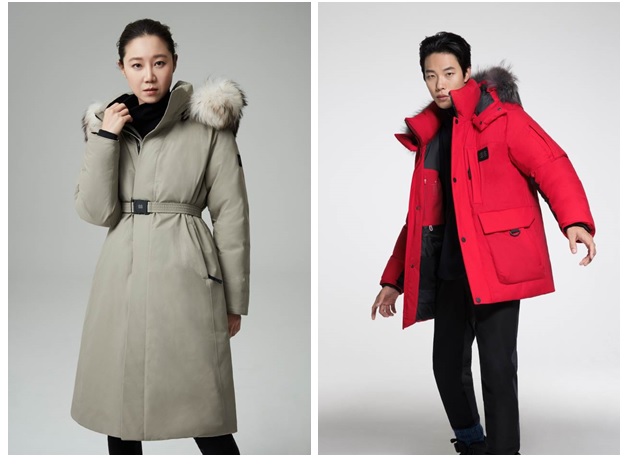 The three lines of Standard, Origin, and Premier; Introducing the first outdoor NFT warranty to the limited-edition product
ANTARCTICA, a flagship product of KOLON SPORT, an outdoor brand of the KOLON Industries FnC Organization (KOLON FnC), is celebrating its 10th anniversary this year.
ANTARCTICA is a heavy down product developed by KOLON SPORT in 2011 when it began providing apparel to the Korea Expedition for Antarctic Meteorites. Since the first release in the fall/winter season of 2012, ANTARCTICA has been steadily selling, and it is now almost recognized as an independent brand.
Ergonomic heat, Loro Piana material, extreme warmth…choose a style you like
This year, ANTARCTICA will be released in three lines—Standard, Origin, and Premier—with different features. Among them, Origin Red and the Premier line will be released in limited quantities.
The ANTARCTICA Standard line was developed considering the fact that our body parts feel cold differently. Through a joint study by KOLON SPORT and Seoul National University's Department of Textiles, Merchandising and Fashion Design, the amount of down for each zone was optimized using a thermal manikin (a human model used to measure the warmth of clothing). For example, a heat-down material is added to the top of the back and the top of the sleeves. In addition, eco-friendly materials are utilized, such as recycled polyester as outer material and RDS down as filling material. Furthermore, in collaboration with painter Je Yeoran, the changes in Antarctica as if they were filmed from an artificial satellite were incorporated into the clothes.
ANTARCTICA Origin focused more on the essence of ANTARCTICA, which is overcoming the extreme cold of Antarctica. As the line that KOLON SPORT actually provides to the crew of the Korea Polar Research Institute (KOPRI), ANTARCTICA Origin has an increased focus on "lightness" and "mobility." GORE-TEX INFINIUM 2L (layer) material is used to maximize windproof, breathable, and waterproof properties. This line comes in three colors: Red, Black, and Blue, of which Red is the same color as the first ANTARCTICA launched in 2012, and will be released as a limited edition.
ANTARCTICA Premier is made of Loro Piana Storm System wool. Although this material is wool, it does not get wet in the rain thanks to the water-repellent technology developed by Loro Piana, which is known for the finest quality material. Unlike Poly-Perfluorinated Compounds (PFC), this technology is eco-friendly because it uses regenerated plant materials. The back and upper sleeves are designed with a double-down structure for extra warmth. Seam sealing is applied overall to minimize the leakage of filling material.
The first Korean outdoor brand to issue an NFT warranty
KOLON SPORT became the first Korean outdoor brand to apply NFT (non-fungible token: as a digital token built on blockchain technology, each token has given a unique identification code and is not interchangeable, making it impossible to exchange or replicate) to its products. For ANTARCTICA Origin Red only, a digital warranty will be provided through Kakao Klip using NFT technology. Red is the main color of the clothes provided by KOLON SPORT to KOPRI, and is also the color that represents ANTARCTICA. As ANTARCTICA Origin Red is the same product supplied to KOPRI, an NFT warranty is issued to add more value to the limited edition.
In addition, KOLON SPORT provides a special certification service to customers who purchase the ANTARCTICA Premier and Origin (Red) lines. With the QR code on the label of each product, you can access the profile page of your ANTARCTICA product and check detailed information about the product, purchase history, warranty period, etc. Those who complete the certification process will receive an Oski or Jenny doll as ANTARCTICA's 10th-anniversary gift, along with a 50,000 won reward coupon.
Park Seong-cheol, brand manager of KOLON SPORT said, "ANTARCTICA has been KOLON SPORT's best-selling and steady-selling winter item for the past 10 years. ANTARCTICA products have received the highest praise from customers every winter for their extreme warmth and various functions that are even wearable in Antarctica, as well as their trendy styles. We hope you experience the upgraded ANTARCTICA as it marks the 10th anniversary."