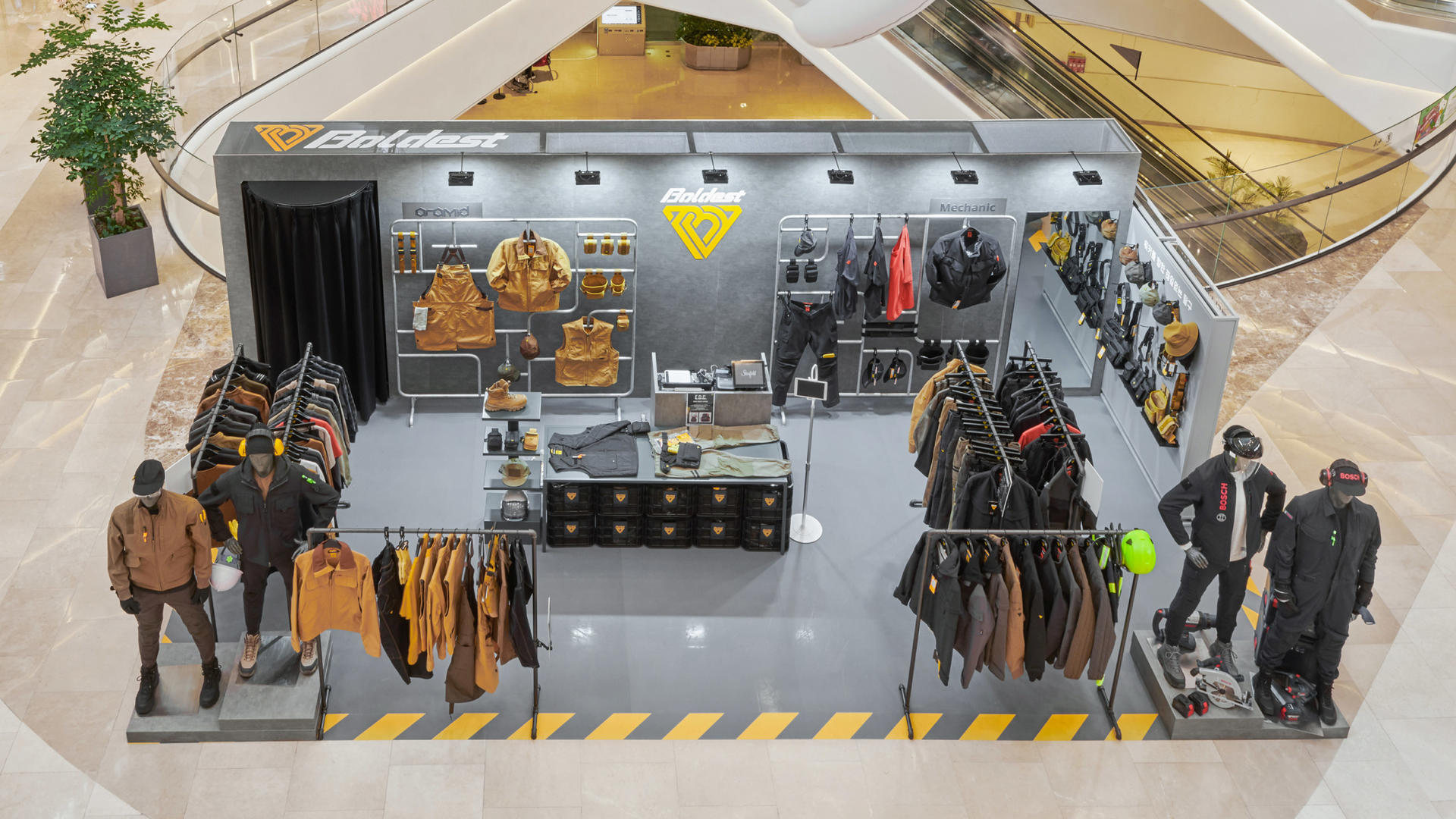 Capturing the utility of workwear with the theme of 'Everything a Worker Needs'
Providing consumers an opportunity to experience the brand's signature products from the Architecture, Aramid, and Mechanic lines
Boldest, the workwear brand of the KOLON Industries FnC Organization (KOLON FnC), will open its first offline pop-up store on the 1st floor of Starfield Hanam for two weeks from November 8 to 21.
Boldest is a brand whose products are mainly distributed online, but has prepared this pop-up store to meet the demands of people who have learned about Boldest by word of mouth and wanted to experience its products that use unconventional functional materials like the Aramid line as well as the designs that maximize the convenience of workers.
The pop-up store is decorated with the theme of "Everything a Worker Needs." While delivering the message that workwear is what workers need the most, the store also visually depicted the utility of professional clothes. The 112 pieces of patterns that make up Boldest's best-selling product, Work Shield Technical Pants, are exhibited, and the entire pop-up store was designed with the motif of an assembled toy kit model.
In this pop-up store, you can find all of Boldest's signature products from the Architecture line for carpenters and architects who deal with wood materials, to the Aramid line for workers who use metal, to the Mechanic line for mechanics. You can check out belts and pouches, which have been steadily selling since the brand launch, as well as new products added to the upcoming winter season.
Work boots scheduled to be released in December are also on display. Work boots are the first product produced with the participation of customers in product planning and design and the naming contest through "Lab to Create Together." The pop-up store will be the first place to unveil the final product to customers before the official launch.
As this is Boldest's first pop-up store, various events have been prepared.
A shopper bag will be given to all customers who purchase a product from the pop-up store within the period, and customers who purchase products worth 200,000 won or more will receive work socks. In addition, among those who upload a photo of their visit to social media together with the required hashtags during the pop-up store period, 20 people will be selected and given a Boldest product as a gift through a draw.
Boldest Team Leader Park Byung-joo said, "Boldest targets a rather unusual type of clothing. Although we have been receiving immediate feedback from customers online, this pop-up store will be an opportunity to showcase Boldest's outstanding product power not only to workers but also to general customers."